Dead Money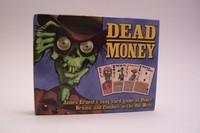 It's the Old West, and you find yourselves working at Friedey's, the watering hole of the damned.
You're the last few payers in a poker game you're not allowed to win.
Now lose all your money as fast as you can, while everybody else is trying to do the same. Oh, and you'll probably need the Brain.
Dead Money is the newest game in the Friedey's series (Give Me the Brain, Lord of the Fries, and The Great Brain Robbery). It's a wacky cross between poker and Give Me The Brain.
Players begin with a hand of cards and no Brains. The Brains are cards in the deck; there are eight of them all together. The object of the game is to get rid of your cards, which represent (among other things) the money you have left in this poker game. Of course, a lot of the cards make you draw more cards, and a lot of them require that you have a Brain.