Race for the Galaxy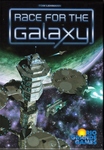 Explore, Settle, Develop, Trade, Consume, or Produce? Which do you need the most? Which of Earth's former colonies will be most successful at settling the galaxy, now that JumpDrive exists? Who will discover the secrets of the mysteriously vanished Alien Overlords? Your goal: to build the most prosperous and powerful space empire!
From the Rules:
In Race for the Galaxy, players build galactic civilizations by game cards that represent worlds or technical and social developments.
Each round consists of one or more of five possible phases. In each round, each player secretly and simultaneously chooses one of seven different action cards and then reveals it. Only the selected phases occur. For these phases, every player performs the phase's action, while the selecting player(s) also get a bonus for that phase.
From Rio Grande Games:
The players compete to explore the galaxy by settling new worlds and developing new technologies. Each turn each player chooses one action, but the others will share in the actions chosen. In the end, the player with the most points is the winner!
See also: