Ticket To Ride: The Card Game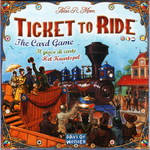 A New Train Adventure Begins!
The Ticket to Ride Card Game delivers all of the excitement, fun, and nail-biting tension of the original Ticket to Ride board game, but with several unique game-play twists in a new stand-alone, card game format.
Players collect sets of illustrated Train cards, which are then used to complete Destination Tickets - routes between two cities depicted on each ticket. But before their Train cards can be used, players must face the risk of "train-robbing," where another player may force them to lose their hard-earned cards.
The Ticket to Ride Card Game is for 2-4 players ages 8 and older.
Contains 96 illustrated train car cards, 46 destination tickets, 6 big city prize cards, and a rulebook.